Why Professional Dog Grooming Before A Dog Show Is So Important
OUI Paws Pet Salon is home to the best dog grooming in Huntington Beach. We're thrilled to deliver a clean, safe, and enjoyable experience to every pet that comes to us for a grooming session. When you're looking for a groomer for your precious pooch, there's no better choice than OUI Paws.
We believe finding a good dog groomer for your furry friend is every bit as important as finding the right salon for yourself. Grooming is an important part of pet care. Maybe you don't feel confident cutting your dog's nails. Maybe your dog's coat requires a special cut, or you prefer a style you can't quite manage yourself. Or maybe your dog just loves the feeling of being pampered! Whatever the reason, it's important to find a groomer that you trust.
The Health Benefits of Frequent Dog Grooming
Taking your dog to a professional groomer for complete grooming care has many benefits. A professional clip will enhance your dog's coat, improve overall hygiene, and ensure your pet is clean and comfortable. Experienced groomers will be able to:
Remove fur mats
Express anal glands
Clean ears
Alert you to skin problems and other medical issues
Remove the undercoat from double-coated dogs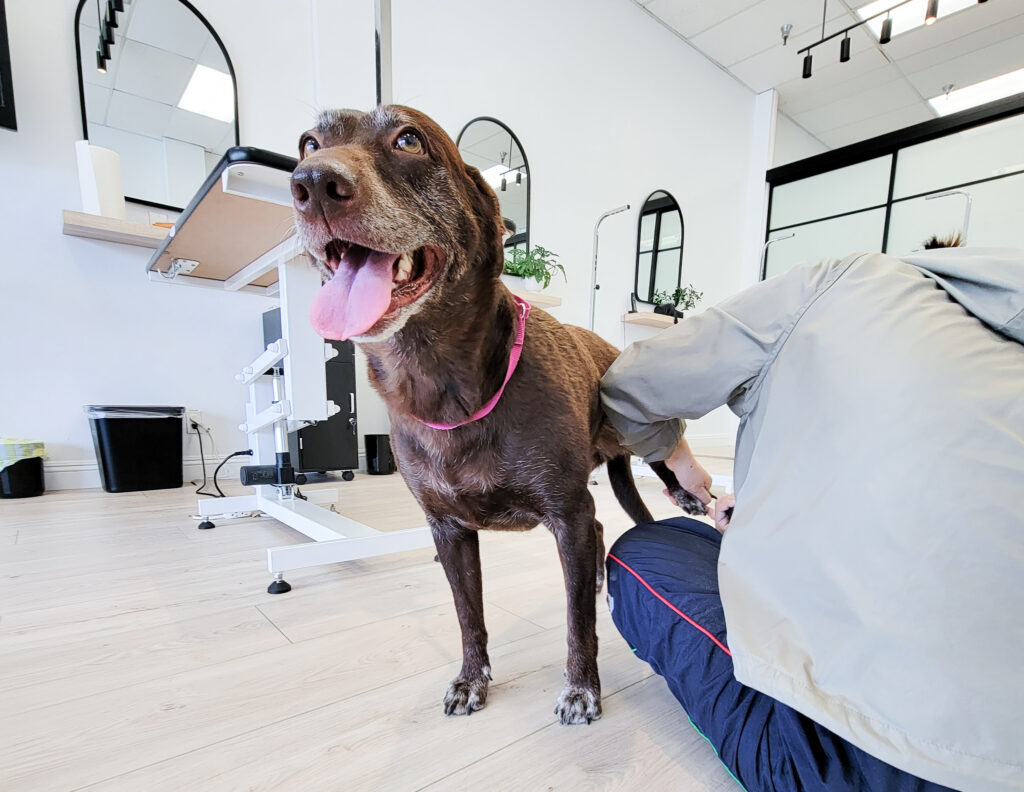 How to Choose the Best Dog Grooming in Huntington Beach?
When looking for a new salon for grooming your pet, talk to other dog owners. You can also search online for trusted pet groomers in your area and read the customer reviews on their websites and business social media pages.
Once you narrow your search down to a few candidates, check out their websites, give them a call, and ask a few key questions:
What qualifications and experience do they have?
How many regular clients do they have?
What type of products do they use?
What professional organizations do they belong to?
How long they have been in business?
Different dog breeds can require different grooming techniques, so always make sure your groomer has experience with your particular breed. If your dog needs any special cut or drying technique, then verify the groomer can do it before scheduling an appointment. Honest, experienced professionals should always be happy to answer any questions you might have.
And when you visit your dog groomer's salon for the first time, look around and make note of the following:
How clean is the salon?
How up to date is the equipment?
Are the staff calm, relaxed, and professional?
How do they interact with the pets?
How does it smell?
Don't hesitate to ask questions. Be clear about any special instructions you have, if any, or specify how you want your dog groomed. If you don't speak up, the groomer won't know what you expect!
With a little research, a few recommendations from fellow dog owners, and the right questions, you can find a salon that will pamper your dog exactly the way you want. But the fastest way to find the best dog grooming in Huntington Beach is simply to go to OUI Paws.