Your dog deserves a little pampering, and a great way to pamper them is by booking a pet grooming appointment in Huntington Beach.
The professional groomers in Huntington Beach know the various grooming styles and cuts and can help you find the best fit for your dog and lifestyle.  And a perfect style and trim is not only part of good hygiene, but also helps your dog feel and look their best.
And here are some of the most-loved dog grooming styles and haircuts to consider when you bring your dog to a pet salon in Huntington Beach! 
Puppy cut
Don't be fooled by the name – puppy cuts are great for dogs of any age. The hair is trimmed to an even length across the whole body, giving the dog a puppy-like appearance. Simple and low maintenance, it's a perfect cut to stave off matted fur in medium- to long-haired breeds.
Teddy Bear cut
With an even cut around the body and face, Teddy bear cuts are similar to puppy cuts, but geared toward curly-haired dogs like Labradoodles, Poodles, and Goldendoodles. The hair around the face is also usually shaped to be more rounded (like a Teddy bear).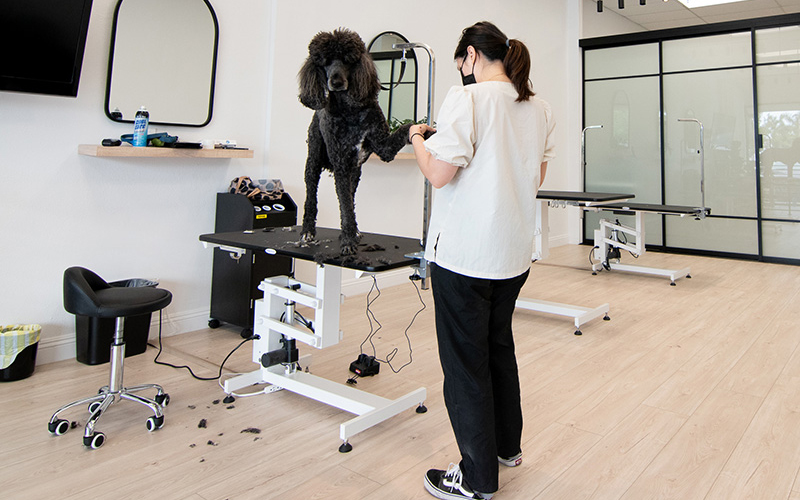 It's a cute style that requires very little maintenance and helps avoid the tangles curly-haired breeds are prone too. That's why it's popular among curly-haired dog owners in Huntington Beach.
Top knot
In a top knot cut, a ponytail or "poof" of curly hair is shaped on the top of the dog's head. For dogs with straighter hair, like Shih-Tzus or Lhasa Apsos, a stylish barrette or bow is used to hold this top knot in place.
Top knots keep a dog's hair out of their eyes and free of debris or moisture when playing, eating, or drinking. And it gives an adorable, clean, and polished look to your dog.
Kennel cut
The kennel cut is a universal grooming style that works for any dog breed. It can vary slightly between breeds, but generally involves cutting the hair to about a half-inch (longer at the ears).
This makes for a quick and easy grooming style that's long-lasting and requires very little maintenance – perfect for busy dog owners.
Lamb cut
If you have a curly-haired dog, a lamb cut is a great (and adorable) option. The hair is cut short around the body but left longer on the legs. It keeps your dog cooler in the summer, but also helps keeps the legs and paws warm in the winter, making a great year-round cut for your poodle, Airedale terrier, or other curly-haired dog.
Poodle cut
As the name suggests, just picture a poodle – the hair cut close to the body and kept longer on the head and the neck (forming a kind of mane). Ideal for curly-haired dogs, this cut prevents tangles and keeps the curls fresh and bouncy. And while it's most common on poodles, it can be used on other curly-haired breeds as well – though be aware it is a high-maintenance cut.
When it comes to pet grooming in Huntington Beach, make sure you're getting the best. The professional pet groomers at Oui Paws Pet Salon have the skill and knowledge to ensure your dog gets the pampering and top-quality grooming they deserve! 
We promise your furry friend will love their new grooming style or cut! So, call us today at 657 – 244 – 8158 to schedule an appointment, and we'll help you find the perfect pet grooming styles or cuts for your dog!